Everyone said they very much enjoyed the trip and in particular the AEC Reliance bus, which was in lovely condition.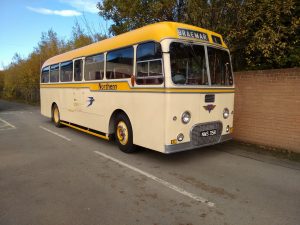 Beautiful day weather wise and request was made to pass the Kelpies on the return journey. We had time to spare going to Museum so the bus took the scenic route arriving as planned.
The museum was nice and compact with excellent display of well known makes of cars, mags, toys and tools of yesteryear. Well worth a visit and topped off with tea/coffee and biscuits.
Excellent event, super weather, for time of year, and everyone seemed to enjoy themselves.
Thank you to drivers Gavin and Ian for a safe journey.