---
Isle of Cumbrae Classic Car event 2019
Was it Millport or Madeira for the Cumbrae Classic Car event? Wonderful weather, with the temperature rising into the 20's, it was easy to make a mistake.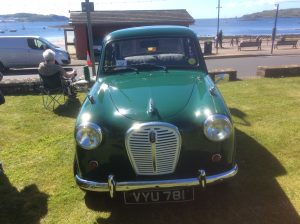 Even the wait for the ferry crossing was fun, although a 45 minute queue. Getting out of the car and chatting to other Classic owners to pass the time. The ten minute crossing was another added excitement of the day. Then a short drive into the town of Millport, but always being aware of cyclists, of all ages, meandering into and out of the town. Sometimes the toddlers had more road sense than the teenagers and seniors. Young lovers holding hands while cycling in the middle of the road. Whole family groups, like The Broons, circumnavigating the island (10 miles), spread across
the road and a 20/30 yards long group, for sponsored charities.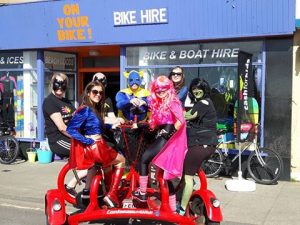 Some in fancy dress to make it more exciting, or hazardous.
A big bonus for the day was the crowning of The Isle of Cumbrae Queen. Maids of honours, guards of honour (island primary school boys and girls), pipe band and a mixed voice choir.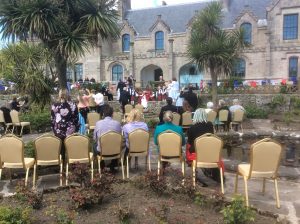 And not to forget the Garrison Café No nonsense coffee choices.
Americano = Black coffee
Latte = Milky coffee
Cappuccino = Frothy coffee
Mocha = Choccy coffee
Flat white = White coffee
Espresso = Strong coffee
Tea = Not coffee
Hot chocolate = Also not coffee
A good collection of Classic cars, 1920's right through to fairly modern and sports cars.
Met only one pair of SWTVC members, Bill & Pat McCreath.
Well worth considering for next year.
Harry Sherry
Austin A35 VYU 781