tSWTVC Bulletin Sept 2019
SWTVC BULLETIN NUMBER 6 (September 2019)
The SWTVC Website can be found at www.swtvc.org.uk and has up-to-date information about meetings.
Registered address of the SWTVC: 31 Roselea Drive, Milngavie, Glasgow G62 8HE
Committee
Ronnie Gordon: (Chair & Acting Secretary) 0141 956 2950 07906 042215 Ronnie@Glasgownet.com
31 Roselea Drive, Milngavie, Glasgow G62 8HE
John Stewart (Treasurer) 01475 520228 07976 264886 Johnstewartinverkip@tiscali.co.uk
44 Harbourside, Kip Village, Inverkip Greenock PA16 0BF
Harry Sherry : (Webmaster) 0141 887 5289 07760 475500 hsherry@tinyworld.co.uk
Corsebar Avenue, Paisley PA2 9QE
member
John Young: (Membership Secretary) 0141 424 1860 jfyglasgow@gmail.com
139 Terregles Avenue, Pollokshields, Glasgow G41 4DG
JIan Stother: (Member) 0141 776 5330   07565 718315 Stother@outlook.com
11 Fern Avenue, Lenzie G66 4LE
Ronnie Johnston: (Editor) 01555 896633 07766 027500 sb57nfe@gmail.com
Dave Stewart: (Webmaster) 07539 408986 daavross@tiscali.co.uk
Monthly meetings: These take place on the 3rd Tuesday of the month in the Kirkhouse Inn at 08.00PM.
All members welcome.
Note:
The opinions expressed in this bulletin are not necessarily those of the committee or any of its members.
EDITORIAL:
Well, here we are in September, does anyone know where our summer has gone?
The weather for the RSAC "Three Lochs" was little better than it had been for Biggar but the Club was well represented in spite of that.
There was a transition in the weather the following Sunday when I took the Singer to Kirkcudbright. This event is pleasant and informal with lots of cars not seen on the usual Scottish rally circuit. The run there and back was a joy with the fine weather and the car showing the benefit of the work done over the winter.
SCAM WARNING:
Some members have reported receiving text messages, apparently from another member and displaying their contact details.
If you receive any message of this nature check directly with the other party before complying with any request made.
LETTER TO STEPHEN LECKIE:
You will recall from the last bulletin that Stephen Leckie of Crieff Hydro has been appointed Lord Lieutenant of Perthshire. This is a significant honour and makes him the Monarch's personal representative in Perthshire. It also confers the right to fly the Lion Rampant.
Ronnie Gordon sent a letter of congratulations on behalf of the club and I have copied it below for your information.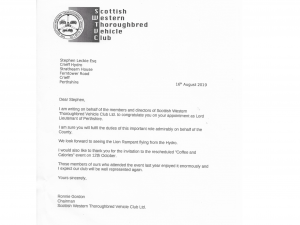 CLICK ONTO LETTER TO ENLARGE
BUS RUN TO DUMFRIES HOUSE:
This takes place on 22nd September.
The bus will pick up at Milngavie Station at 11.30 and at 12.00 at Glasgow Road Paisley adjacent to Barshaw Park. (PA1 3LT)
Pick-ups in the south side have traditionally been made at Silverburn shopping centre but we understand there are now restrictions on how long cars can be left with penalty notices going to anyone exceeding this.
The group size is limited to 40 persons as this is the maximum that Dumfries House can accommodate. The visit includes a tour of the property and an afternoon tea both of which will be paid for by the Club for member and partner.
Our party will be split equally with one group having the tour while the other has the afternoon tea.
There is no charge for the bus but a donation towards the running costs will be appreciated.
There are still a few places available so if you fancy the trip give your name to Ronnie Gordon.
AUTOJUMBLE:
As previously advised this will take place on Saturday 5th October.
There is no charge for a table so, if you wish to de-clutter and possibly get a little money why not bring your stuff along. It may be "junk" to you but a vital part to someone else.
40th ANNIVERSARY DINNER:
As you will know from the previous bulletin Stephen Leckie will be unavailable over our weekend so we cannot be certain that we will see his car collection.
I have asked the hotel if they can provide someone to show us the cars but they cannot promise this.
Stephen's "Cars and Calories" event has been rescheduled to 12th October and he has already extended an invitation to Club members. If you wish to attend just go along for 09.30 there is no need to book.
The plans for the weekend of 26th and 27th October are as follows:
Saturday 26th.
Meet at Waitrose car park at 10.30 for an 11.00 start.
A route avoiding main roads will be issued at this time.
Tea and coffee has been arranged at the Hydro for 1.30 and the Club will pay for this.
Members will be free to do what they like in the afternoon.
The following suggestions may be of interest.
Glenturret distillery.
Drummond gardens,
Explore Crieff town centre.
Crieff Garden and Visitor Centre.
The Earthquake House, Comrie. *(See below.)
There are also a number of activities available from the Hydro at additional cost.
Note: Rooms are available from 15.00.
Secure parking is available for members who bring their old car.
*Comrie's other main claim to fame is that it is the earthquake capital of the UK, being subject to more, and more intense, earthquakes than anywhere else in these islands. This may be because it lies close to the Highland Boundary Fault, the line that carves from south west to north east right across Scotland. Because of this it is sometimes referred to as the "Shaky Toun" or, in Gaelic, "Am Baile Critheanach". Visitors today can view the Earthquake House, built in 1874 on the edge of the village to house sensors.
There will be a pre-dinner reception at 19.00 with the dinner itself starting at 19.30.
Dress: Jacket and tie for gentlemen please.
After dinner speakers: Jonathon Lord and Dan Gardiner
Sunday 27th:October
Assemble 11.00 after breakfast.
We will return by way of Comrie, St Fillans and Lochearnhead.
This run will include a stop at Balquidder for a visit to the historic church and Rob Roy's grave.
Leaving Balquidder we take an interesting country road to return to the A84 at Strathyre where we have arranged tea, coffee, soup and sandwiches at the Munro Inn.
The Munro Inn is directly opposite where we rejoin the A84.
On leaving the Munro we will continue to the Woollen Mill at Callander where we will say our goodbyes and head home.
MEMBER'S CONTRIBUTIONS:
Thanks to Harry Sherry for this amusing photo taken at last year's Viking Festival.
You will see Allan and Sandra Brown's taxis in the background.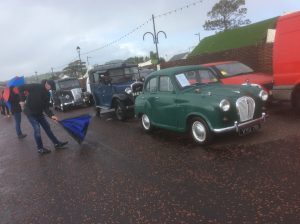 I think the guy with the brolly must have been the model for the "Roadworks" sign.
AND FINALLY:
Here are a couple more of the old adverts sent in by Dan Gardiner. If there was ever a competition  for most useless items these would be serious contenders.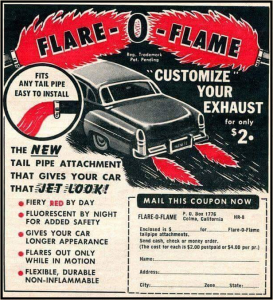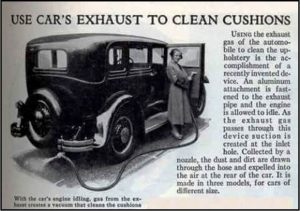 I hope the lady, who appears to be rather overdressed for cleaning the car, is aware of the danger of carbon monoxide poisoning and why anyone would want a red flare hanging from their exhaust is beyond me.
That's all folks,
Hope to see you at Dumfries House.
Ronnie