SWTVC BULLETIN NUMBER 12/19 (DECEMBER).
The SWTVC Website can be found at www.swtvc.org.uk and has up-to-date information about meetings.
Registered address of the SWTVC: 31 Roselea Drive, Milngavie, Glasgow G62 8HE
Committee
Sandra Brown ( Secretary) Mob: 07951 732611
John Stewart (Treasurer) 01475 520228 07976 264886 Johnstewartinverkip@tiscali.co.uk
44 Harbourside, Kip Village, Inverkip Greenock PA16 0BF
Harry Sherry : (Webmaster) 0141 887 5289 07760 475500 hsherry@tinyworld.co.uk
Corsebar Avenue, Paisley PA2 9QE
member
John Young: (Membership Secretary) 0141 424 1860 jfyglasgow@gmail.com
139 Terregles Avenue, Pollokshields, Glasgow G41 4DG
Ian Stother: (Member) 0141 776 5330 07974 946461 Stother@outlook.com
11 Fern Avenue, Lenzie G66 4LE
Ronnie Johnston: (Editor) 01555 896633 07766 027500 sb57nfe@gmail.com
Dave Stewart: (Webmaster) 07539 408986 daavross@tiscali.co.uk
Monthly meetings: These take place on the 3rd Tuesday of the month in the Kirkhouse Inn at 08.00PM.
All members welcome.
Note:
The opinions expressed in this bulletin are not necessarily those of the committee or any of its members.
EDITORIAL:
Winter is now well and truly here and the toys are away until spring.
I have several maintenance tasks planned over the winter but the garage is far less inviting at this time of year.
JOHN FORBES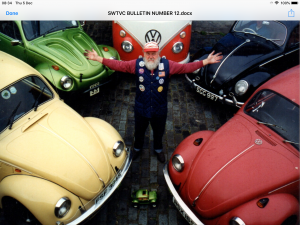 John was a Club member some years ago and members may remember him and his passion for everything Beetle. John died peacefully at home on 30th October but news of his passing arrived too late for inclusion in last month's Bulletin.
I am including this simply for information.
AGM:
Just a reminder that this will take place in the usual venue:
Kilmardinny House, Bearsden, Glasgow G61 on Monday 2nd December at 7 for 7.30pm.
Please be aware that Ronnie Gordon has advised that he will be resigning as Chairman and Acting Secretary in the course of this meeting.
Ronnie has been Chairman for the past ten years and we are grateful for everything he has done for the Club.
Anyone wishing to "take up the mantle" of one or other of these jobs should make this known at this time. Ronnie will be happy to advise on what is involved and help the new post holders with their new duties.
I will be on holiday next week so I will be unable to attend.
CLUB SUBSCRIPTION:
It is proposed that the Club subscription will be kept at £20.00 (Joint) and £17.00 (single)
MEMBERSHIP LIST:
A few members have asked about a copy of our membership list.
This can be obtained from John Young, Membership Secretary.
MID-WINTER DINNER:
This will be at our usual venue 1051 GWR ON Friday 17th January. (19.00 for 19.30.)
TS Queen Mary Festive Tour Day – Sunday 1st December 2019
I have just learned that tours of Queen Mary at the Science Centre will be given this Sunday 1st December. These tours are free but must be booked in advance. Tickets can be ordered online. I suspect this may be more interesting than Christmas shopping!
AND FINALLY:
I am unsure if this would really work but it certainly is an ingenious idea. I will try it next time I am doing brakes.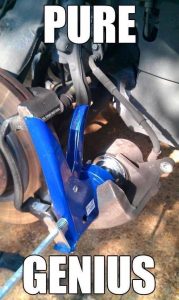 THAT'S ALL FOLKS.
Wishing everyone a great Christmas and New Year, hope to see you at the Club dinner.
Ronnie Johnston